Wednesday Weekly Blogging Challenge — Lies

It's time again for the Wednesday Weekly Blogging Challenge hosted by Long and Short Reviews.
Today's topic is: Something you believed but found out wasn't true
This one was easy for me… and the betrayal I felt when I discovered the truth….see this?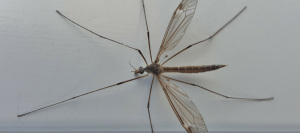 This is what I've always called a mosquito hawk. And, growing up, I was told they eat mosquitoes. I spent countless moments doing things like saving them when they got into the house and putting them outside because MOSQUITOES=BAD, MOSQUITO HAWKS=GOOD.
Right?
Wrong.
That is NOT something that eats mosquitoes… it's a crane fly.
A crane fly.
Want more information about this ultimate lie? Go here: Mosquito Hawk? Skeeter Eater? Giant Mosquito? No, No, and No
In other news, my book "One Love for Liv" is on a book tour right now. Feel free to visit (and you can comment to win a $10 Amazon or Barnes and Noble GC if you'd like). Here are all the stops:
November 8: Sandra's Book Club
November 8: Literary Gold
November 8: Archaeolibrarian – I Dig Good Books!
November 15: Fabulous and Brunette
November 15: Gina Rae Mitchell
November 15: Boys' Mom Reads!
November 22: Hope. Dreams. Life… Love
November 22: Novels Alive
November 22: The Avid Reader
November 29: Maggie Blackbird